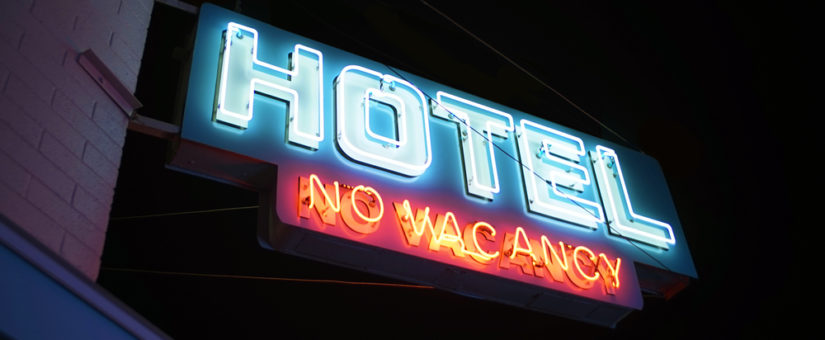 PART TWO: Now that you have your branded campaigns running with a healthy ROI, it's time to make them better by using ad extensions. Google's ad extensions create more opportunities to increase click-thru-rate and highlight your hotels most popular information.
Understand Your Guests Needs
Fully utilizing Google's ads extensions means understanding what's most important to your guests in booking a hotel and the amenities. Each type of ad extension offers a different call to action or an opportunity to highlight features. The sitelink extensions will populate in desktop searches more than mobile searches.
Sitelink Extensions
Use sitelink extensions to send potential guests to specific pages. Here's some of the science: Review on-page website data and to find the highest converting web pages and most viewed content. Add these links to your sitelink extensions with a call to action.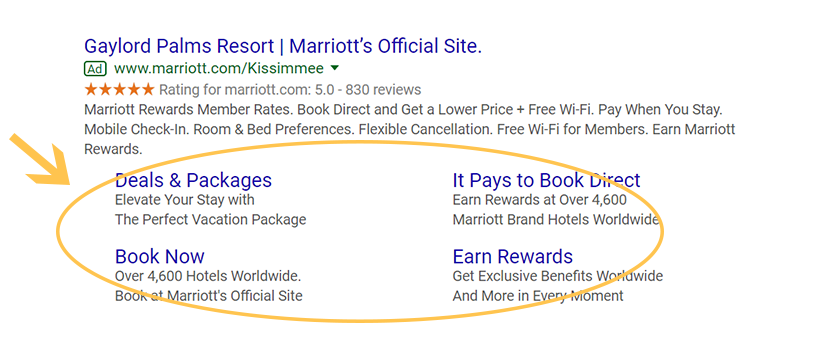 Call Out Extensions
Add additional text to your ad and expand your real estate presence in search results. Highlight property features and significant information you know users are always looking for when researching a hotel. Example: If you are pet friendly or have an onsite spa, let users know to increase CTR.
Click-to-Call Extensions
Cost per call can get costly if you the calls to your reservations team mainly consist of questions about your property or directions and not with the intent to book. Target keywords for ads that you know are lower in the booking funnel for an increased ROI. Use negative keywords to ensure your add doesn't show for searches that are strictly information seeking.
Promotion Extensions
Utilize promotion extensions highlight your best deal. Segment users by geographical location to advertise a drive to market offer verses an extended stay deal. When adding a promotion extension, you can choose an expiration date which show ups with your deal, giving a sense of urgency. The promotion will also stop showing in searches, eliminating the worry of turning the deal off in your ads.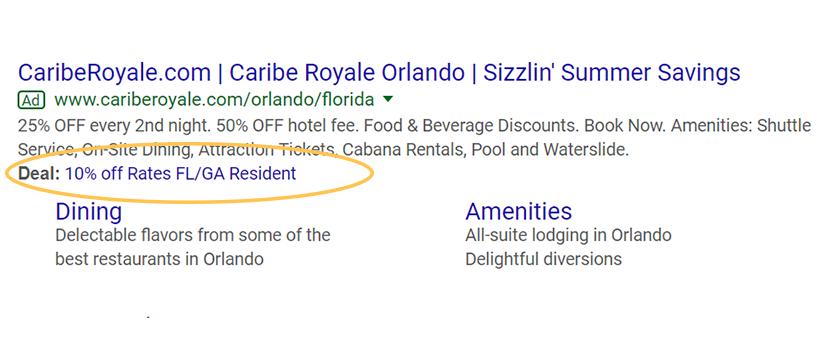 There are variety of promotion types
Monetary discount: A specific dollar amount that your rooms are discounted.
Percent discount: A set percent off amount for a room type.
Up to certain monetary discount: A determined static dollar amount that your rooms may be discounted.
Take advantage of as many ad extensions that apply to your property or guest. You don't have to use all of them. We would highly recommend you test all of them out and measure ad click-thru rates and conversion rates for all ads that are displayed with the extensions. Keep in mind, depending on your keyword targeted, competition and device type, the kind of extensions that populate will vary and possibly not show at all at times. Use data sources to track and determine the most effective extension types. The online travel agencies use all the Google ad features to capture your direct market. You can do the same.
Posted by Melissa Conn
On August 26, 2015
0 Comments